well in bed. i have been sick for the last 2 weeks or at least thats what it feels like. massive headache still since friday. guess something is in the air but its also been sinuses. sorry no wordless wednesdays or cooking stuff as i have been sick and the DH doesnt cook much besides hamburger helper, hot dogs and corny dogs.
well we have some exciting news to share... no i am NOT pregnant (not even trying). we are planning a cruise next year after B's birthday. YAY!!! it sales out of Galveston which is awesome b/c its only a 6 hr drive from Ft Worth (it takes forever to get anywhere in Texas). its Feb 24th - March 3rd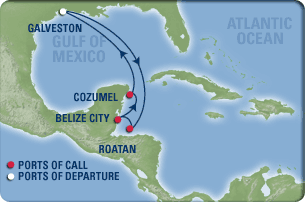 i am really excited about this b/c we have been wanting to go on a cruise again since we walked off of our last one. this isnt a for sure trip as we are starting to budget right now for it. all we are doing is taking out the money we have left over from our grocery and gas budget every 2 weeks. we have $91 right now so we are far from the goal however the cruise isnt that much b/c we get a discount since we live in Texas and since it will be our 3rd cruise we get onboard credit and coupons and lots of goodies. B will stay in our room and is only $300 since he is only 3. the cruise for all 3 of us is $2053. yeah that is an awesome price for a 7 day cruise for 3 people. plus we dont have to buy plane tickets since we will drive. we will drive down the day before and stay at a hotel that will give us free parking while we are on the cruise. we are so excited but we are budgeting severly so that we can take this trip. we will also have to get B his passport which will be $100 or so (i think). we also need $250 per person to reserve. we are hoping by april we will have that much or more saved so we can do it. i am just so excited thinking about it. after this trip we will be saving for disney which was way expensive ($5000 for where i wanted to stay for 11 days- YIKES). so we will also need extra for excursions and also kid programs and stuff on board. hoping i can get B potty trained by then and my goal is to loose 100lbs by then... i LOVE the ww program which i havent been in 2 weeks :( and havent been really following but know i have to get into a swim suit by then i will be. anyways just thought i would do a quick update and share our great news! hopefully!